Certified Pre-Owned Computers
All of our desktop computers come with a one year warranty
Certified Pre-Owned Program
There's no such thing as a free lunch. Buy cheap parts for your car, and expect to show up at the mechanic's. Snag those cut rate airline tickets, and expect to be crammed in like a sardine on a flight. Buy a new computer on the cheap, and expect to pay double to repair it.
We start our process by selecting only the best computers. Our machines were top of the line when they were first released and still going strong today. After selecting the core components, we then spec out the computers to be competitive with today's increasing software demands. We are thorough with each and every machine we put together, testing and retesting each component to ensure that no computer that leaves this store leaves with faulty equipment.
As a licensed Microsoft Partner we load a fresh copy of Windows onto the computer. A copy of the license key and recovery disk are put into an envelope, waiting to be picked up on the day the computer is purchased. On each of our computers, you'll find a Microsoft Certificate of Authenticity stickered onto the belly of the machine. That's how you know what we sell is both authentic and legitimate. Never accept a refurbished computer without one.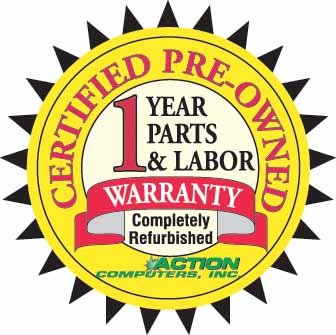 We've been doing business in the Denver Metro area for over 20 years.
We believe in the product we sell, and we stand behind it. Each of our computers comes with a One Year Warranty. We cover all Parts and Labor, and you get the benefit of having one on one interaction with a person should you ever need to bring the computer in. At most big box stores and internet retailers, be prepared to have to send your broken computer out after a fruitless conversation with their customer service agents.
So why buy used? Simply put, you can't beat the value for the price. We are the fastest, cheapest, and best computer store in Denver. We've been here for over 20 years, and we plan on sticking around for another 20. We are Action Computers. There may not be such a thing as a free lunch, but that doesn't mean you can't get a great deal!