Welcome To Action Computers
Action Computers was founded in 1993 and specializes in refurbished laptops, desktops, LCD's and more.  Action Computers is the largest buyer and retailer of used computers in Colorado.  We also have a full refurbishment process for any computer sold and sell over 20,000 computers a year!  We are experts in purchasing used computers from individuals or large multinationals and have a safe and secure process to eradicate data.  Our repair department is top rated, completing over 500 repairs a month!  We use industry leading techniques and software to ensure your well-informed and comfortable with your repair.  Businesses trust us with their computers too!  We use industry leading MSP software to remotely monitor and repair computers before issues arise.
Our founders have 1 simple requirement: take care of the customer!  At Action Computers, the customer is treated like family.  Feel free to visit our Denver or Arvada locations, or shop online.  You'll be glad you did.  Thank you for choosing Action Computers!
Jeff Myers
Vice President of Operations, Action Computers
303-759-1668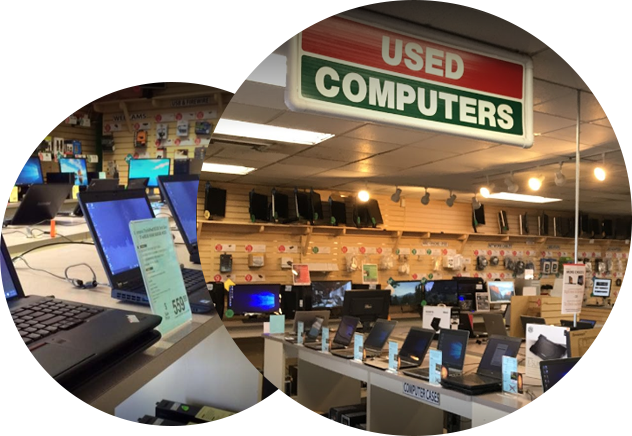 MacBook

iMac

iPad

iPhone

Desktop

Laptop
MAC
We Buy MacBooks, iMacs,
iPhones and more!
Sell your Apple or PC products to us and get CASH! We buy it all – from Macbook to Surface. iPhone to iPad. We want your used equipment! We pay competitive prices and make sure your data is removed.
SAFE
SECURE
NO UNCOMFORTABLE SALE
CASH RIGHT AWAY
Why sell your
equipment to us?
We have a storefront
We're local
We pay immediately
We clear your data
No uncomfortable sale
Watch Offers Video
Watch Our Videos
We are trusted by more
than 99,800 clients
TESTIMONIALS
This is basically the best computer shop in Colorado. I came in looking for a new monitor. I've always wanted dual monitors on my personal computer, but...

I have used this computer service for years. They are fair in their prices for used computers and services. They are honest and always willing to help you find what you need.

Mable Bailey
15:14 27 Sep 21
Awesome! My kid needed a laptop for school and it's working out great!!! Thanks

I came in after comparing a few places on Yelp, looking at their online and in-store inventory. I needed a new used laptop for personal use that day, to not...

Well i brought my computer into the arvada location on sunday had them take a look at it. They were very polite and took a look at the system and everything...

After upgrading all of my workstation laptops, we realized that our point of sale requires 1080P resolution, and a high end video card. Action worked with us, made it happen, didn't break the bank, and offered technical support with a sense of urgency. Thank you Action Computers, from the Team at Westminster Arms! you knocked it out of the park- This is the 1st place I go to when in the market for tech devices. Cannot say enough how great this place is. Have bought our last 4 PCs: a desktop for...

I absolutely recommend these guys! I have been going here for years and never been disappointed. My latest laptop repair was crazy. I tried to close the lid...

I bought a simple refurbished Dell laptop from here about a month ago and it has been great thus far. I'm not a techy person AT ALL, so I am generally intimidated by the idea of these kinds of purchases. However, I was immediately helped upon my arrival and I was in and out within 15 minutes.I believe it was Jeff that helped me, and he was so kind and understanding. All the employees seemed genuinely interested in helping customers, and were both professional and friendly. I also have no doubt in my mind that if I had trouble with my purchase, or if it turned out to be a lemon, they would make sure I was taken care of. I highly recommend supporting this small business.

I have done business with Jeff and his team for awhile now. Any problem or issue comes up Jeff and his team goes out of their way to fix it or handle it. ACTION COMPUTERS
Latest Blog Posts
"But they are only $10 online" A phrase I wish I never had to hear again – but a phrase that I understand. Why spend twice the price on something that appears to do the same thing as a cheaper alternative? We found the results frightening. "Its just a charger" This was on another forum […]
$10 laptop adapters online – be careful!
You've seen them in your Facebook feed, on TV, on fliers and pretty much everywhere. What you and I at one point called a number sign or pound sign has been renamed completely and is used in a different way. So, before you go out and make the mistake of using these classic words, only […]
A quick tutorial on #hashtags and what #nottodo when using them
Have you ever wondered what makes a computer fast? If you buy a computer with a decent processor, you are solving most of the problem. But that's not the only part that you need to be concerned about! Benchmark tests show overall system performance Your processor works together with other components to make your computer […]
How do you determine the actual speed of a computer? A benchmark! But what IS a benchmark?
We are OPEN! To learn more about our changes and practices during COVID-19, please follow the link below