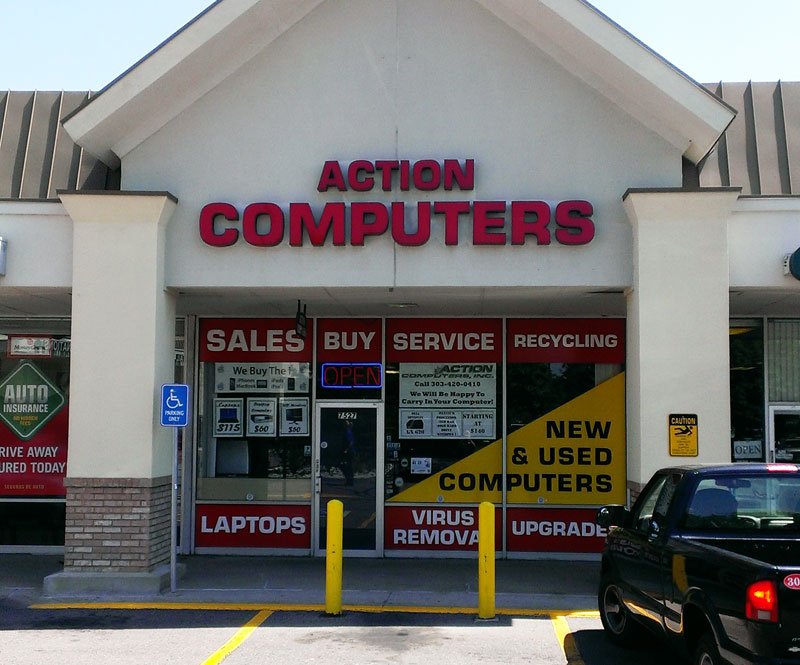 Action Computers was founded in 1993 and specializes in buying, recycling, selling and servicing computer and other electronic equipment. Action Computers is the largest buyer, refurbisher, and retailer of used computers and electronic equipment in Colorado. While we have purchased thousands of computers from large multinationals, we also take care of small local businesses and other organizations, public or private.
We pride ourselves on providing one-stop solutions to organizations needing to dispose of electronic equipment and helping our retail and online customers get the best value and quality when purchasing equipment. If you need service and repairs, we're your solution! Our A+ Certified Technicians are highly trained to provide you the best and quickest service available in the entire metro area. Maybe you have equipment to sell or recycle. Maybe you need to buy a computer or have your PC repaired. Whatever your needs are, give us a try! You'll be glad you did, like thousands before you.
Our philosophy is simple: take care of our customers!
REFURBISHED COMPUTERS
Action Computers is dedicated to providing quality refurbished notebooks and desktops at discount prices! Every computer must pass a rigorous refurbishing process crafted over 20 years of experience. Our products are backed by warranties, technical support and the best customer service in Colorado!
You can buy a cheap laptop anywhere, but at Action we take the risk out of buying used equipment! We get new equipment in all the time so please visit one of our stores for Colorado's largest selection!!
SERVICE
Our A+ Authorized Service Center has been fixing computers since 1993. We have the fastest and most knowledgeable Service Department in the Denver area, with expert Technical Professionals ready to provide repair services from virus removal to motherboard replacements and everything in between. We service all brands and pride ourselves on being the most helpful and friendliest place to solve your computer problems. Preserve your investment by letting us extend your PC's usefulness with a wide choice of upgrades.
We also offer expert OnSite and Remote support for both your business and home!
RECYCLING AND PURCHASING
Our goal is to provide you with a full service solution that includes the best value for your used computers and equipment, with available pickup, recycling and data destruction services combined in a convenient experience for you and your company.
As a full service solution for your computer equipment and electronics decommissioning and recycling needs, we believe that the truest form of recycling is reuse. We specialize in refurbishing equipment that still has usable value and locally recycle all other electronics in accordance with EPA and state regulations. We also provide data destruction services for all your computers using the industry standard DoD 5220.22-M Department of Defense Data Sanitizing method.