Welcome To Action Computers
Featured Products
Quickview

Quickview

Quickview

Quickview

Quickview

Quickview
Action Computers was founded in 1993 and specializes in refurbished laptops, desktops, LCD's and more.  Action Computers is the largest buyer and retailer of used computers in Colorado.  We also have a full refurbishment process for any computer sold and sell over 20,000 computers a year!  We are experts in purchasing used computers from individuals or large multinationals and have a safe and secure process to eradicate data.  Our repair department is top rated, completing over 500 repairs a month!  We use industry leading techniques and software to ensure your well-informed and comfortable with your repair.  Businesses trust us with their computers too!  We use industry leading MSP software to remotely monitor and repair computers before issues arise.
Our founders have 1 simple requirement: take care of the customer!  At Action Computers, the customer is treated like family.  Feel free to visit our Denver or Arvada locations, or shop online.  You'll be glad you did.  Thank you for choosing Action Computers!
Jeff Myers
Vice President of Operations, Action Computers
303-759-1668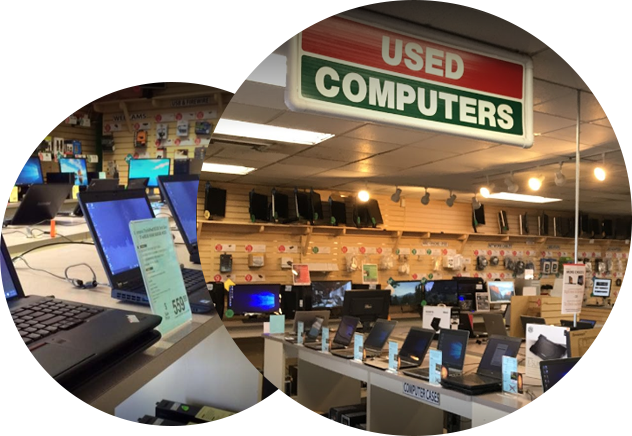 MacBook

iMac

iPad

iPhone

Desktop

Laptop
MAC
We Buy MacBooks, iMacs,
iPhones and more!
Sell your Apple or PC products to us and get CASH! We buy it all – from Macbook to Surface. iPhone to iPad. We want your used equipment! We pay competitive prices and make sure your data is removed.
SAFE
SECURE
NO UNCOMFORTABLE SALE
CASH RIGHT AWAY
Why sell your
equipment to us?
We have a storefront
We're local
We pay immediately
We clear your data
No uncomfortable sale
Watch Offers Video
Watch Our Videos
We are trusted by more
than 99,800 clients
TESTIMONIALS
I would not normally ever give a 5 star review to anyone or any company. However Jeff at Action PC went above and beyond with his customer service. Jeff...

I've had positive experiences at Action Computers. I had previously brought in an old, non-working external hard drive and they were able to salvage the...

This is the 1st place I go to when in the market for tech devices. Cannot say enough how great this place is. Have bought our last 4 PCs: a desktop for...

I stopped by with my niece to look at buying her first laptop. She worked with Mike who was a total gem! He started by showing us what he purchased for his...

This old nerd goes back to Dos and before the Internet - but value doesn't change! I need an older laptop for programs that can't be run anymore. PC City is...

Picked up an awesome refurbished Dell laptop to set up my remote work station and I'm absolutely loving it! Not only did it cost me less than $200, it...


Purchased a zippy little used PC tower a week ago. Couldn't get sound out of it. Dropped it off and in one day they had the diagnostic ready with options...

Ben was very helpful during my tech appointment today. He was able to solve my sudden microphone and speaker problem that I was experiencing within minutes during a virtual session.

I am always pleased with the products and purchases at Action Computers. They are very helpful and take the time to answer questions. Their prices are also...

Action Computers was amazing. We got a great deal on a refurbished intro gaming pc for my son. Our salesperson was so helpful. They were super covid...

ACTION COMPUTERS
Latest Blog Posts
"But they are only $10 online" A phrase I wish I never had to hear again – but a phrase that I understand. Why spend twice the price on something that appears to do the same thing as a cheaper alternative? We found the results frightening. "Its just a charger" This was on another forum […]
$10 laptop adapters online – be careful!
You've seen them in your Facebook feed, on TV, on fliers and pretty much everywhere. What you and I at one point called a number sign or pound sign has been renamed completely and is used in a different way. So, before you go out and make the mistake of using these classic words, only […]
A quick tutorial on #hashtags and what #nottodo when using them
Have you ever wondered what makes a computer fast? If you buy a computer with a decent processor, you are solving most of the problem. But that's not the only part that you need to be concerned about! Benchmark tests show overall system performance Your processor works together with other components to make your computer […]
How do you determine the actual speed of a computer? A benchmark! But what IS a benchmark?
We are OPEN! To learn more about our changes and practices during COVID-19, please follow the link below